Roseville Property Management
Let us manage your Roseville rental property

We offer a full range of property management services tailored to 1st time investors and experienced investors. We have an extensive portfolio of single-family homes, townhomes, condos, and multi-unit complexes in the Roseville area.
Benefits of using Armando Ramos & Associates, Inc.
No hassle management
Automated owner statements
Online Owner Portal Access
Industry leading marketing tools
24/7 maintenance request handling
Prompt Response to Tenant Requests
Low vacancy rate
Low time on market
Industry specific local knowledge
What we do as your Roseville property manager:
Fill vacancies
Advertise your rental
Handle tenant inquiries
Background and credit investigations
Application processing
Lease signing
Full service repair
Rent collection
Accounting
Coordinate Evictions
Property Evaluation
The Property Evaluation is a tool used to provide the homeowner with the needed information for their particular market in which the home is located. The evaluation takes into consideration the Gross Living Area (GLA) of the property along with other important marketable characteristics of the subject property, to provide an accurate evaluation. The evaluation is also where the homeowner is notified of any conditions that are not up to living and health standards that may be enforced by the city where the property is located.
Inquire About Our Services
916-919-5347
Marketing
The marketing of any home for rent is important, Armando Ramos & Associates, Inc., uses a myriad of companies to reach possible tenants looking for homes to rent in the subjects area, we actively pursue tenants looking to move to that particular area and tailor are marketing to the clients individual needs.
Sites include:
Zillow
Hotpads
Yahoo!Homes
AOL Real Estate
HGTV
MSN Real Estate
BackPage.com
ByOwnerMLS
Vast
Trovit
Geebo
Yakaz
MyNewPlace
Trulia
LiveLovely
Enormo
Oodle
Craigslist
Military.com
New York Post
Facebook
RentBits
Zumper
Walkscore
RentJungle
Rentenna
Zumper
MapLiv
RentMatch
Rentals.com
SacBee
Tenant Screening
With Buildium software, Armando Ramos & Associates, Inc., can quickly conduct a full tenant screening, complete with background check, identify verification, and credit check (including a credit score).
Security Deposits
A security deposit is any money a landlord takes from a tenant other than the advance payment of rent. The security deposit serves to protect the landlord if the tenant breaks or violates the terms of the lease or rental agreement. It may be used to cover damage to the property, cleaning, key replacement, or back rent. There are limits on the amount of the security deposit: If the security deposit is for a residential property without furniture, the security deposit may equal 2 times the rent. If the residence is furnished, the landlord may charge up to 3 times the rent. There is no restriction on the amount of the security deposit for the rental of a commercial property.
Lease Preparation
Armando Ramos & Associates, Inc., in lease preparation uses California Association of Realtor Forms for preparations of leases. California Association of Realtors (C.A.R.) Standard Forms: Developed by practicing real estate professionals and attorneys working closely with C.A.R. Legal Department.
Roseville Area Information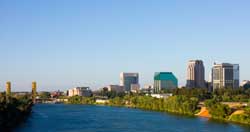 The settlement was originally a stage coach station called Griders. According to the Roseville Historical Society, in 1864 the Central Pacific Railroad tracks were constructed eastward from Sacramento, and when they crossed a small California Central Railroad line they named the spot "Junction." Junction eventually became known as Roseville. In 1909, three years after the Southern Pacific Railroad moved its facilities from Rocklin to Roseville, the town became an incorporated City. What followed was a period of expansion, with the community building more than 100 structures, including what was the largest ice manufacturing plant in the world (Pacific Fruit Express building, in 1913).
Areas We Serve